Final exams are fast approaching, and your child may be teeming with text anxiety. But there's good news! For the most part, students are simply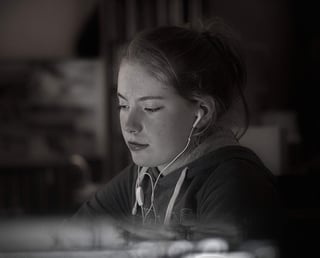 reactivating old learning that happened over the past school year. They're not cramming in a ton of new facts into their heads. Rather, students are dusting off those memories they've filed away. This week, we're offering up a couple of our tastiest tips for helping your child prepare for final exams in a way that builds confidence and helps scale back that irksome test anxiety. Share these with your favorite finals-taker.
Prepare for Finals by Testing Yourself
A super-efficient way to remove all the brain soot that has accumulated since September is to self-test before even reviewing those study materials.
Most teachers provide some sort of guide that lists themes and topics covered on the final. Sit yourself down and pretend it's a pop quiz. Write down all you remember about the topics without taking any sneak peeks at your notebook. And without Googling. This method forces those file drawers in your brain to open. It should be hard. Perhaps some sweat will form on your knitted brow. Good! The more mental energy you use to recall this information, the better connections that will form in your brain. All that exercise will help you remember important material when you need it most. Additionally, this strategy gives you a clear way to prioritize your studying. Nailed the transitive property of congruence? No need to review it. Drew a blank on Anglo-Saxon kings? Fish through the textbook to clear that up.
Don't Sweat the Essay Test
I could describe how to best prepare for an essay test, but why bother when one of our own students explains it so much better?
"The night before I had an in-class A.P. European History essay, my coach and I decided to create sample questions we thought may come up as prompts for the essay the next day. We looked through my notes to find the main themes and generated three different questions. We then went through and made an outline, including a thesis, for each question. These became my study guides. This process really helped my confidence level. As we were making the outlines, I was effectively reviewing and studying the material. I also felt very prepared going into the essay because I felt like I had thought like my teacher when he was making the prompts. It worked out really well on the essay because one of the questions we made was exactly the same as one of the prompts on the test! Because of the prep I did, I received an A- on the essay!" Kristen - High School Junior
Does your child panic at the thought of an essay test? Reduce test anxiety and download our handy guide, Any Essay Brainstorm, to help take the mystery out of preparing for open answer tests and learn to face them with confidence.
photo credit: Leo_SAS_6849 via photopin (license)