Editor's note: This week, we feature guest blogger David Recine, a test prep expert at Magoosh. Please see David's bio below.
What tips do you need to follow to ace the SAT? That depends at least partly on your own skills and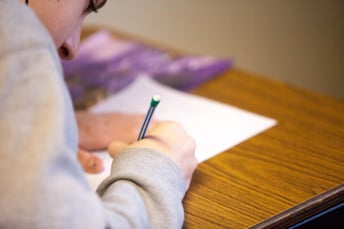 learning needs. But here are four tips that can help any student get a strong start as they embark on their SAT preparation and chart their own best path to success.
Tip 1: Make sure you really should be taking the SAT.
Let me tell you something up front: I'm old. Almost 40. And I have to say - you young high school juniors and seniors don't know how good you have it. You see, in my day, many colleges would either say that you had to take the ACT or had to take the SAT. There was no choice in the matter!

But nowadays, most every school treats either test as equally valid. You have the power to choose which college entrance exam you take. And with that great power comes great responsibility. You owe it to yourself to figure out which of the two tests is best for you. Take this quiz about your ACT and SAT prospects. It can help you make the best possible decision.
Tip 2: Taking the SAT? Check your baseline.
We educators often talk about a student's baseline, the knowledge and skill they have at the very beginning of their studies. As you reach toward the more independent learning you'll do in college, you should learn to test your own baseline. And SAT prep is a good place to start. Early on in your SAT studies, take an online mock SAT such as this one. Make note of your score and notice which sections, content, and question types you're strong in or weak in. That's your baseline. You can use this baseline to determine what you'll focus on as you continue to prepare for the SAT.
Tip 3: The ACT can still be useful, even if you're taking the SAT.
Because the ACT has similar content to the SAT, you can use ACT materials for supplemental SAT practice. Go through some ACT English question sets to build up your SAT Language & Writing skills. Use ACT Reading and ACT Math as supplemental practice for SAT Reading and SAT Math. You can even use ACT Science to practice SAT. The charts and graphs in ACT science passages are very similar to the ones you'll see in science-themed passages on the SAT.
Tip 4: Make an SAT content and strategy list, and revisit that list frequently.
At the very beginning of your SAT studies, you should get together a list of the content that's tested on the SAT. You can get your initial list by skimming the SAT study guide on the official website. From there, make special note of the content, skills, and strategies that you need to study more.
Revise the list regularly during your SAT prep. You'll find that you can check some SAT strategy and content off as you master it. You'll also find that you add new strategies and content to the list as you go. Throughout your studies, you'll discover new weaknesses to address, and new areas where you can perfect your performance.
Photo above by Ben Mullins on Unsplash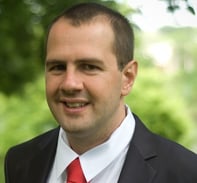 For nearly ten years, David Recine has been teaching students ranging from K-12 to university graduates. He is a test prep expert; writing articles for Magoosh that cover everything from tricky SAT vocabulary words to complex ACT math topics. You can read more of David's awesome blog posts on the Magoosh High School Blog.
---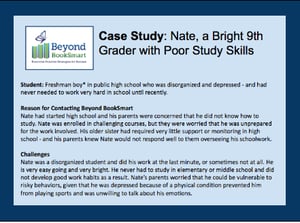 Nate is a bright and disorganized high school boy who never had to work hard in school until freshman year. Read our Case Study to learn how coaching helped Nate gain the study skills he needed to succeed in high school and beyond.
---
Please see this page for comprehensive information about Executive Function in high school students.