Mia, a curious 6th grader who was into dinosaurs and art class more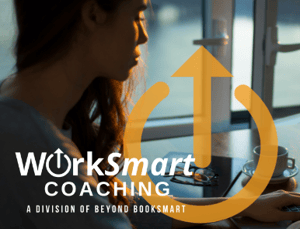 than anything else, had been working with me for about two months when she finally settled on her organizational system: Triceratops stickers on her math folder, Ankylosaurus stickers on the English folder, and Velociraptor stickers for the social studies folder. Science and art -- her favorite subjects -- were already well-decorated and well-organized. (And besides, how could she ever forget her materials for the courses she loved?)
After the session, as Mia proudly shared her new system with her dad, he turned to me and semi-jokingly asked: "Do you think you could coach me, too?"
In the moment, I just smiled in response as he effortlessly redirected our conversation back to Mia. But afterwards, I reflected on the likely seriousness of his question. Given that all of us need to utilize a variety of executive function skills to be successful -- and not all of us have been explicitly taught how to strategically improve our weak spots -- Mia's dad likely would benefit from some guidance.
And he's not alone. Drawing upon the collective experiences of our coaches, who have worked with adults for over 15 years, it's clear that improving executive functioning is a substantial need for many people. After all, the stakes are often higher for adults: Poor self-management skills for an 8th grader may result in some late homework assignments and points lost on a quiz, but those same challenges in an adult can lead to some pretty serious consequences, such as chronic stress, excessive stimulant use, or even the loss of a job. As our coaches know, for some adults, issues with time management lead to perpetual cycles of panic and distress when they finally do get down to work. For others, issues with follow-through on projects lead to poor output -- which naturally leads to poor performance reviews. When significant stress begins to mount, adult clients report both personal and professional consequences -- from sleep challenges to building a negative reputation with their colleagues. It's clear, then, that building self-management skills can improve the lives of adults in meaningful ways.
My work with Mia was focused on organizational skills, and we were able to use a thing she loved -- dinosaurs -- to help her focus on where her papers belong. When her dad chimed in, it's likely because he recognized a need to get organized, too, but wasn't sure how. Of course, a Stegosaurus folder that might work perfectly for Mia was not going to cut it for dad's needs. From managing emails to finding his reading glasses, he needed organizational tools that would fit his particular difficulties.
WorkSmart Coaching - A New Coaching Experience for Adults
Beyond BookSmart has always offered coaching for adults, but the majority of our website content -- such as our blog -- focuses on scenarios related to academic challenges. While some strategies translate easily into non-academic realms, it seemed important to create a space where adults, like Mia's dad, could access information and resources more specifically tailored to the ways in which executive function skill-building plays out beyond the K-12 realm.
That's why we've developed the WorkSmart Coaching website, which offers lots of useful content for free. You can take a quiz to get an understanding of your personalized need for executive function skill-building (see the link at the end of this article). You can read through The Coach's Playbook, an advice column where executive function coaches offer tips and techniques to tackle all sorts of common challenges. And there's a host of great resources to consult, from books on procrastination to podcasts on time management to ADHD websites that the WorkSmart Coaching team has curated. For folks who might be interested in individualized support or who are motivated by having someone hold them accountable as they embark on a journey of self-improvement, WorkSmart offers weekly, one-on-one coaching.
Mia has since graduated from coaching with me, and hopefully has shared a lot of what she's learned with her dad that could get his gears turning on how he can integrate organizational structures to make his life easier. But if I were back in their kitchen right now, I'd encourage him to check out the WorkSmart Coaching website and suggest he consider working with a coach who can support him with getting and staying organized (and possibly with the help of some dinosaur stickers along the way!)