As a college teacher, I've kept a weird work schedule for the past 10 years. Until the current school closures with the COVID-19 situation, I would physically go to work to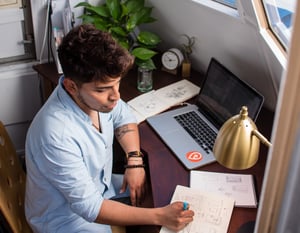 teach my classes, hold office hour appointments, and attend meetings. But a significant portion of the work - such as grading papers - is work I did at home alone.
Now, many of you reading this article may be finding yourselves suddenly thrust into a total work-from-home (WFH) environment that feels like uncharted territory. By sharing what I've learned over the past decade from my irregular work routine, I hope I can help those of you facing WFH for the first time.
---
Working From Home: 3 Tips for Creating a Working Mindset
One of the biggest difficulties I face when working from home is cultivating a work mindset. It's odd to be in a space that's so separate in many ways from the office. I might know that it's technically Monday, for example, but I'm in the same space I was in just yesterday that involved a mix of everything from meal prep to Netflix watching to dog washing. Thus, it's hard not to feel like being at home is simply an extension of the weekend rather than the start of the workweek. This mental confusion is why creating a working mindset is a critical first step. Here's how I do it:

Set an alarm: You know the saying "a body in motion stays in motion"? It's true for our minds, too. In order for a mind in work mode to stay in work mode, it begins with the very start of the day. And nothing signals to me "it's a work day!" quite like the irritating blaring of my alarm going off before the sunrise. While I'd prefer to never hear that sound again, it's the first thing that puts me into a work mindset. In order to create a WFH routine, setting your alarm for the same time you'd typically wake up for work can get you into work mode right from the get-go.

Get out of your PJs: Once my alarm goes off, I then follow my other morning routines just as I would on a go-to-work day: exercise, shower, get dressed. Since hanging around in my PJs all day makes me want to plop on the couch, watch TV, and eat three times the recommended serving size of popcorn, if I stay in my comfy clothes I wind up fighting a relaxation mindset in order to get to work - and that's a battle I'd rather not have with myself. Getting showered and dressed in a different outfit continues the work-mode simulation and helps me maintain a focused mindset.

Eat on schedule: This should come as no surprise at this point, but maintaining your snack and/or lunch breaks at the same time adds to the feeling you might have at the office. Bonus tip: Prepare your food the night before into your typical to-go containers so that when it comes time for lunch or snacking you don't have to cook anything which might cause you to accidentally slip into an at-home mindset (you know, like emptying the dishwasher).
Working From Home: Creating a Plan…for Chores
I suspect many of us know what work we've got to do while at home. But for me, one of the primary distractions when I'm trying to execute that plan is the home itself. Should I make a stew? Fold laundry? Vacuum? Clean the bathroom? Finally reorganize the hallway closet? On WFH days, I identify one relatively small task that I can do for my household and schedule it into the afternoon when I'll likely need a break from work. To avoid getting lost in a spring cleaning spree while the emails pile up, I recommend choosing one small (30 min or fewer) home-based task to tackle each day and build it deliberately into your schedule.
As you settle into this new normal, cultivating a working mindset and pacing yourself with household chores are two steps you can take to make the nine-to-five successfully happen at home.
Photo by Manny Pantoja on Unsplash
---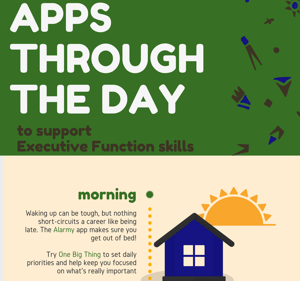 Our infographic describes 8 apps adults can use throughout the day to help them manage time, stay focused and organized, and be productive.