Everything these days seems to be going digital. Apps for this, websites for that, Google Home or Alexa taking up residence in our living rooms. It can be helpful for planning and keeping track of our busy lives, but can also a bit overwhelming and distracting. For those of us who prefer paper and pen as opposed to a digital calendar, using a day planner can be one of the keys to success. While pre-printed planners are great for some people (kudos to you who rock your world with one), many of us would benefit from some flexibility and control over the content, design, and set up of each page. Enter the Bullet Journal.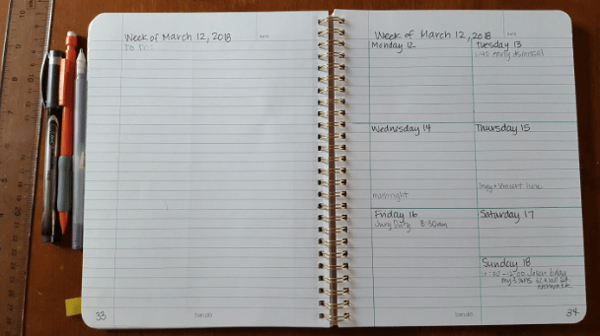 What's a Bullet Journal?
A Bullet Journal is, in its simplest form, a written, or analog planner. Bullet Journaling was created by Ryder Carroll, a digital product designer from Brooklyn, NY. All you need to start your own is a notebook and a pen. Once you've got those, the basic set-up is easy. The Bullet Journal has four basic sections: the index (more on this feature later), the future log, monthly logs, and weekly logs. It also has one other super important thing: page numbers. Your weekly and monthly logs keep track of appointments, to-dos, events, special memories, etc. The future log is where you log appointments and events in the future. Every time you set up a new weekly log, you check your future log and plug in the events for that week.
What's so special about the index in a Bullet Journal?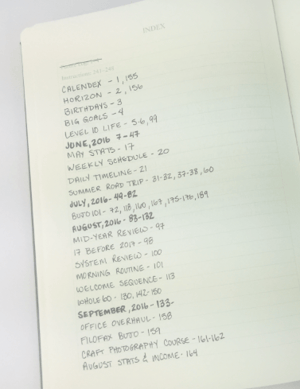 The index is the best part of a Bullet Journal. Say you're plugging along in your journal keeping track of your daily commitments and to-dos like a boss, and suddenly you get the inspiration to keep a list of books you'd like to read or you just want to draw a picture of a dragon. In a pre-printed planner, where would you put this and how would you find it again easily? In your Bullet Journal, you simply turn to the next blank page, start your list or your dragon, and log that page in your index. Yes, it's that simple! While there is a small amount of work to set up your journal, the payoff of this effort will be seen immediately. For full details on how to set up and use your Bullet Journal, go to www.bulletjournal.com. There are infinite ways to modify your journal, so be sure to check out the other resources listed below.
How can adults benefit from a Bullet Journal?
One of my adult clients is determined to make positive changes in her life by improving her work/life balance, becoming more organized, and taking control of the things she felt she couldn't control before. She began using a Bullet Journal a few weeks ago and in a coaching session we had recently, she shared with me some of the positive change she's experienced since she started keeping her journal. She feels significantly less stressed, has normal blood pressure for the first time in over a year, has increased the amount of time she takes for self-care, and uses updating and doodling in her journal as a way to wind down at the end of a busy day. On a personal note, I have changed my life significantly since starting a Bullet Journal three years ago. My challenges with short-term memory had caused problems with my relationships, work productivity, and self-esteem for as long as I could remember. I had tried other planners, both analog and digital, but nothing stuck. Once I began keeping my Bullet Journal, I started remembering things and saw a huge shift towards the positive in those aspects of my life that were so challenging before.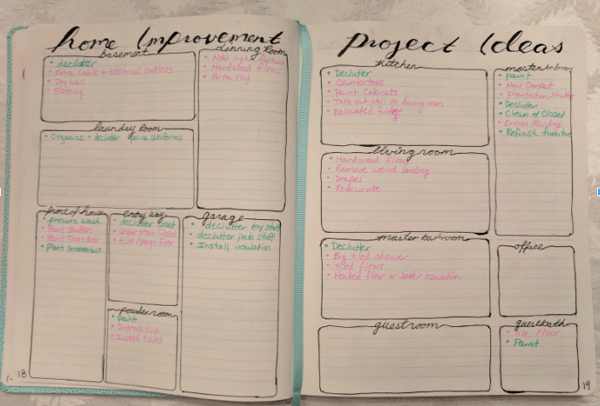 Why students enjoy Bullet Journaling, too
Students can also benefit greatly from Bullet Journaling, in the same ways adults can. Upcoming tests and exams, daily homework plans, sporting events, and project planners can all be added, just as in a pre-printed planner or a digital calendar, but with the added benefit of giving the student the control. They get to decide how to set it up and make it their own, all while learning the importance of organization, planning and prioritizing, and time management, which are all critical Executive Function skills. Bullet Journaling can be especially helpful for students who have ADHD, as the control they have over the content makes it more interesting and more compelling to use. Another client of mine, who is in high school and has ADHD, recently started using a Bullet Journal after feeling frustrated trying to use a pre-printed planner and a digital calendar. For the first time, she's writing down her homework assignments and other commitments. She likes how she can tailor the journal to fit her own needs, and she loves using stickers and colorful pens to make it hers.
The benefits of journaling
Our potential for growth expands infinitely when we give ourselves the chance to develop our Executive Function skills and explore our interests, work, commitments, and personal relationships. It may seem hard to believe, but how we set up and what we keep in our journal is one way to give ourselves this chance. This NYT article explores the benefits of writing in a journal which allows us space to process what we do every day. Keeping a journal can help with improving our sleep, strengthening our immune system and increasing our self-confidence. Specifically, Bullet Journals give us this space by doubling as a place to organize our lives and as a place to process the experiences we have every day.
Resources for getting started with Bullet Journaling:
Hannah Choi, MA is an Executive Function Coach who lives in Fairfield, CT with her husband and two elementary aged kids. She has over 15 years of experience working with students of all ages, from preschool to college students. Hannah is a graduate of The University of Rochester where she earned a BA in Psychology, and The University of California at Santa Barbara, where she earned an MA in Education. Outside of Beyond BookSmart, she owns a small business making items for babies and young children. When she's not taking care of her kids or coaching students, you'll find her kickboxing and checking her bullet journal to make sure she didn't forget anything.
---
Do you - or someone you care about - appear forgetful, distracted, or unmotivated? Download our infographic describing 5 symptoms of Executive Function challenges in adults.