Editor's note: This week, we feature guest blogger The Law Office of Steven Alizio, PLLC. Please read more about Steven Alizio below.
As professionals who specialize in helping parents find the best possible support for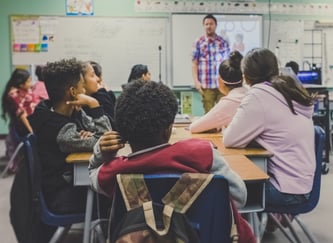 their children with learning differences and other disabilities, our team typically hears some variation of this question every day: How do I ensure that my school district provides my child with an appropriate education? Just last week, we got a phone call from Anna, a mom who has a 13-year-old son with a 504 plan. Anna was upset that the school hasn't been following her son's 504 plan - and as a result, her son was falling behind in his classes and feeling frustrated at school. After listening to more details about her son's circumstances, we advised that it may be in her son's best interests to advocate for an IEP, instead.
In special education, it's all about the IEP
An IEP, or Individualized Education Program, is the legally enforceable document intended to ensure a child is receiving an appropriate education. It is to be carefully crafted, often evaluated, and closely followed. When something goes wrong in the creation of the IEP, or when the IEP is not implemented correctly, parents have the right to seek solutions from the school district and answers about how the school will provide their child with a free, appropriate public education (commonly referred to as a FAPE).
What does an IEP say?
It turns out there are quite a few requirements for what goes into an IEP under federal law. The Individuals with Disabilities in Education Act (IDEA) defines an IEP as "a written statement for each child with a disability that is developed, reviewed, and revised."
When developing the IEP, members of the IEP Team should take into account the child's overall academic, functional, and socio-emotional strengths and needs. Put together, this information lays the foundation for the major components of the IEP, which, according to the regulations, must include:
| | |
| --- | --- |
| Component of the IEP | Example of the component |
| Describe the student's present levels of performance. | The student is currently one grade level behind in reading. |
| List the student's measurable annual goals. | In one year, the student will be able to read at grade level. |
| Describe the student's progress towards annual goals. | Quarterly progress reports indicating how close the student is to reaching the goal. |
| List the special education, related services, and supplementary aides the student needs. | The student requires an integrated co-teaching classroom for English, 1:1 speech and language therapy three times per week in a separate location, and assistive technology in the form of a laptop computer. |
| Describe the extent to which the student will not participate in general education activities. | The student will be removed from class three times per week for speech and language therapy and will be in an integrated co-teaching classroom for English, but will otherwise participate in general education activities and classes. |
| Describe assessment accommodations or alternatives for the student. | The student will be assessed in a separate location in which they will have questions read aloud and will receive extended (double) time. |
| Specify the date for beginning services, along with the duration, frequency, and location of services. | The IEP will be implemented on September 7, 2019; the student will receive a 10-month program in a community school; the student will be in a general education classroom for all subjects other than English. |
| Describe post-secondary goals and transition services for students turning 16 or older in a particular school year. | After graduation from high school, the student will enroll at a four-year college and take courses in mathematics to improve skills in their chosen field of engineering. |

How is the IEP created?
In addition to telling us what must go into the IEP, the IDEA also provides guidelines for how these determinations must be made. While results of formal evaluations and assessments inform much of the IEP's core, the general insight of educators, service providers, and other individuals who work closely with the child are just as important. For this reason, the IEP must be developed through the collective input of each of the members of the child's IEP Team. The IEP Team includes, but is not limited to:
The student's parent(s) or legal guardian(s);

At least one general education teacher (if the student is, or may be, participating in the regular education environment);

At least one special education teacher (or, where appropriate, at least one special education provider);

A representative of the school district;

An individual who can interpret the instructional implications of evaluation results (e.g., a school psychologist);

Other people who have knowledge or special expertise regarding the student, as the school district or the parent(s) deem necessary; and

If appropriate, the student.
Although there are circumstances in which a member(s) of the IEP Team will not be required to attend the meeting, the school district must always make sure that the parents are provided with a meaningful opportunity to participate in the development of their child's IEP.
Parents should make their voices heard
According to law, the IEP Team must give special consideration to the concerns of the parents. The IEP should include a parent concerns section, which can serve as a powerful tool for parents who are advocating for their children. When parents write a letter or request that the school include certain information in the IEP, parents then have a record of what they think their child needs and evidence that they have been attempting to collaborate with the district. (Check out these great tips about documenting your concerns.)
The Supreme Court has said that the IEP is "the centerpiece of the [IDEA]'s education delivery system for [children with disabilities]." When a piece of paper is so important, families need to know what's in it. For more information, please check out our recently published work, Developing the IEP.
We are committed to the belief that students with disabilities deserve a free education that prepares them for a fulfilling life. When families know their rights and understand how to form collaborative relationships with schools - while advocating for their children's needs - they are forging a path toward success. There's nothing more rewarding than working with families in order to change the trajectory of students' lives.
Photo by NeONBRAND on Unsplash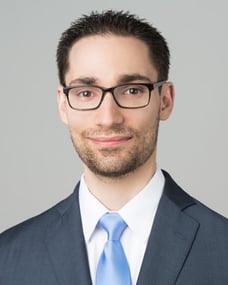 The Law Office of Steven Alizio, PLLC, is dedicated to ensuring that students with disabilities receive appropriate educational services and placements. Steve began his career in special education law as a fellow in NYLAG's Special Education Unit, where he provided free legal services to low-income New Yorkers. He believes that money should not inhibit students' access to a free appropriate public education. As such, The Law Office of Steven Alizio, PLLC, represents students using a flat-rate sliding scale. Please see their blog featuring informative articles for families.
---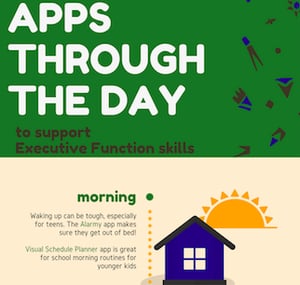 Download our infographic, Apps Through the Day for Students, featuring 8 of our coaches' favorite apps for helping students be more organized, focused, and productive.
Please see this page for comprehensive information about Executive Function in Elementary students.