We've all been there. A mountain of homework sits in front of your child. He's feeling overwhelmed. You're feeling anxious. It seems like he's barely into the first row of problems on that math worksheet when he asserts his urgent desire to take a break. Before you know it, homework time stretches into dinner time and family time and bedtime. And nobody is having a good time. You're looking for homework help, now.
As academic coaches, we often see difficulties with our students' ability to stick with tasks until they're done (our fancy term is Goal-directed Persistence). We find it's useful to make a distinction between helpful pauses and momentum-slamming delay tactics. In other words, what's the difference between breaks and brakes?
(cue the screeching tire sound)
3 Homework Help Tips for Managing Study Breaks
1: A Break is time-limited
It is a short, 5-15 minute period that has a clear beginning and end. Here are some examples from students we've worked with:
Play one song on the violin or listen to one song on headphones

Shoot 20 free-throws

Do 10 minutes of yoga, stretching or other excercise

Skype with friend for 10 minutes
A Brake, on the other hand, is fuzzy. It has vague parameters to indicate it's over.
Walk the dog

Play video games for a while

Practice the tuba

Watch some funny videos
Any of these activities, begun without a clear sense of how long it should take and when you should stop, spells trouble for starting back up with homework.
2: A Break is part of the overall homework plan
It doesn't just erupt out of nowhere. Study breaks are strategic and used to energize and refocus a distracted student.
Here's what an effective student's homework plan may look like: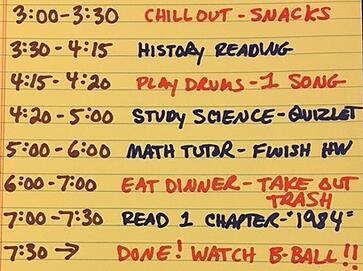 Here's what an ineffective homework plan looks like:
See the difference (beyond the obvious)? The first one planned for start and end times of each task (the When), as well as specific study breaks. At any given moment, a parent providing homework help could ask "How's the plan going?" and the answer is pretty straightforward. Either it's an "on time arrival" or "I need to skip study break #2 because I'm behind schedule."
3: Breaks include a springboard to get back to work
Study breaks are most effective when a student has a clear sense of what she will do once she gets back to work, and does some quick preparation before taking a pause in her work. In the first example above, before she runs to the basement to play drums, she would open up Quizlet on her laptop and get her science textbook and notes out of the backpack and on her desk. This one minute prep can really help students who have a hard time starting work after a break (our fancy term: Task Initiation).
Of course, there can be plenty of other reasons why students take excessive homework breaks and can't complete their work efficiently. Sometimes they feel too anxious about the work itself and seek to escape it. Or they can't sustain their attention for the full duration of an assignment. Or they get distracted by texts they "have to" answer. Or they get stuck and cannot figure out how to solve their problem. Any of these reasons can put the brakes on productivity. And while solutions for these particular difficulties go beyond the scope of this article, we teach Executive Functioning strategies for each of these challenges, as well.
Bottom line: When providing homework help, plan the work, plan the breaks. Take the "fuzziness" out of breaks so they don't put the brakes on productivity.
Do you have a child who needs help with managing and planning nightly homework? Download our detailed worksheet and guide to planning effective study breaks below.