Editor's note: This week, we feature guest blogger Dr. Katherine Pang, a licensed psychologist in TX. Please read more about Dr. Pang below.
Right now, students, adults, and parents all over the world are struggling to continue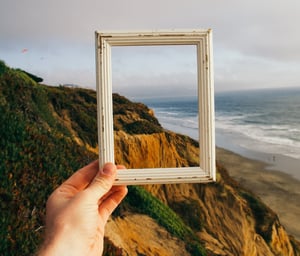 this new "way of being" we find ourselves living. Our most mundane routines have been uprooted and altered in ways that would have defied our imaginations just months ago: shopping for the evening's meal, working with colleagues, attending classes - it seems that no aspect of our lives has gone unchanged by our social distancing and shelter-in-place requirements. In this process, it is common to feel a sense of loss; we cannot spend time together over a meal, sit with a friend in a movie theater, or gather with loved ones for important rites of passage such as graduations, weddings, and even funerals. To feel disappointment, despair, or disdain over the disruptions we are experiencing is understandable - and yet, finding ways to feel hopeful and thankful are deeply important to maintaining our mental and physical health - now, more than ever. So, what can we do to continue to facilitate our own personal development and resiliency during these unprecedented times?
Mental Reframing: What Does Your Lens Capture?
I would like to introduce the psychological concept of reframing. Before you keep reading, take a moment to locate a picture frame. Remove the picture and backing and look through the open frame. The frame represents a lens – a way of seeing the world that governs how we think and how we behave. Notice, as you peer through your frame, what objects you are including or excluding in the picture before you. Are you omitting or focusing on an untidy corner of your room? Are you including just the dirty dishes in your sink and cropping out the beautiful ripening fruit on the counter nearby? Notice how you feel when you adjust your view.
In a similar way, our own mental frames through which we view our world are constructed from our prior successes, disappointments, frustrations, and our conditioned ways of thinking. The frame's perspective is a combination of positive and negative experiences that can serve to either clarify or distort our view. For instance, we can get stuck in ways of thinking (known as cognitive ruts) where our mental frames narrow our way of seeing the world. Maybe that rut can be an emphasis on all the negative things that fill the world right now, or on how unfair it feels to miss out on activities that are important to you.
4 Steps to Mental Reframing
Now, consider how you choose what to include in your mental frame. How do you successfully reframe in the midst of the losses we are experiencing?
1) First, you need to acknowledge that you are experiencing loss. Take some time and identify those specific areas where you feel affected by our sustained physical isolation from others.
2) Second, acknowledge by specifically identifying and speaking the truth about your loss. For example, I miss my in-person small group on Saturdays and spending time in my office with my patients.
3) Third, reframe your experience into a truth statement. For instance, I may write down "Although I cannot meet in person, I can see faces on Zoom and hear voices and we can still discuss the same topics we would discuss if we were meeting in person." Write your own reframed truth statement.
4) Fourth, shift toward acceptance of the truth. For example, I can state that I am excited that technology allows me to still connect with people that matter to me.
These four steps will help you develop a powerful new pathway in your brain and allow you to move out of cognitive ruts. Like deep ski tracks on a mountain, we want to avoid the well-trodden packed snow ruts and ski on the fresh powder which carves new ways of productive and authentic truths which will drive our decisions and behaviors. Choose a new pathway through a reframing and watch how the shift will produce a new perspective towards a greater peace and stability during these challenging times.
Photo above by pine watt on Unsplash

Dr. Katherine Pang is a licensed psychologist and founder of Lakewood Wellness Partners, a psychology practice in Dallas, Texas as well as MetaCogSkills and Brain Skills for Kids. Dr. Pang is also the Founder of EdWay Online, Inc. Dr. Pang has several degrees including a PhD in Educational Psychology Cognitive), a Master's in Clinical Psychopharmacology, a Post Graduate Certificate in Neuropsychology, Lifestyle Health, and Primary Care Psychology. In addition, Dr. Pang has two law degrees (a JD and an LLM in Taxation), an MBA, a master's in educational technology and Psychology. Dr. Pang is also the founder of the Christian Life Institute a non-profit focused on spiritual formation.
---

Learn more about our ongoing free webinar series to help students, adults, and parents cope with the challenges of life amid the COVID-19 crisis.