If you had asked me in 2006, when Beyond BookSmart was in its infancy as a company, if it's possible to coach students online to be more effective and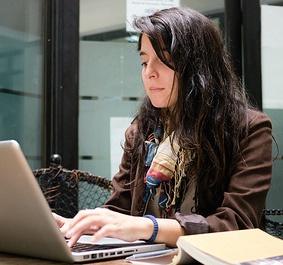 productive, I'd have likely answered with a resounding "Inconceivable!" After all, our work is built on a foundation that emphasizes rapport and respect for our students. Without that, it's an uphill trudge to influence kids to change their work habits. So, doesn't that coaching relationship have to take place face to face — in the same space?
In 2016, the clear answer is no. Students are digital natives, cutting their teeth on iPad apps as toddlers, and operating DVD players and smartphones before they enter kindergarten. Now, why should we be surprised that today's students see online academic coaching as the best way to get the support they need to get organized, manage their time, plan their work, and do well in school? After all, they use Skype and Facetime and Google Hangout pretty much on a daily basis. They make friends and maintain their friendships using technology, so doesn't it follow that establishing rapport with a coach online is not that different?
The students we've worked with via online academic coaching love its flexibility and convenience. Need to check in with your coach before a big essay test for just 30 minutes? No problem. Want to set up several 15-minute sessions during a busy week to make sure you're on track? Done! Dealing with a head cold or icy roads? No need to cancel online coaching sessions due to seasonal germs or weather woes. And the fact that this academic support comes without the need for Mom or Dad to drive their child to a coaching session during rush hour keeps all parties breathing a little easier.
What about results? Is online academic coaching effective at transforming students who are struggling? Read what Karen, a mom from Concord, MA, shared with us recently:
"Our 19 year old son was struggling with organizational skills, motivation, and academic focus during his fall semester of sophomore year. We did not appreciate the extent of his challenges and the resultant anxiety until the semester was nearly over. At that point, he was in such crisis that he was willing to accept help from a coach at Beyond BookSmart, and we had the intake and began coaching during the week of Thanksgiving. At this point, he was so discouraged that he did not feel like the semester was salvageable.

Sam, his patient and encouraging coach, began working with our son over twice-a-week Skype sessions and daily check ins, given the volume of work that needed to be addressed. During the last weeks of the semester, she introduced him to useful tools to help him organize and prioritize his schoolwork, and held him accountable in a non-judgmental and kind way that immediately gained his trust and acceptance. Sam was instrumental in getting our son to begin to advocate for himself and reach out to teachers and administrators for support and guidance on campus.

The net result of Sam's efforts was that the semester was indeed salvageable. Most importantly, our son regained some equilibrium, hope and confidence in his abilities to get his work done, and has learned the value of using your team of supporters rather than trying to go it alone. He was able to complete coursework for a Physics class, but some of the work was so late that it was unacceptable, so he was persuaded to take a medical withdrawal from that class so as not to fail. In his remaining three courses, he worked with his professors at Sam's encouragement to complete his assignments. He received an A- in Dance, a B in Nature Writing and a C+ in Environment and Society. He and his parents are delighted by this outcome, and we are so grateful to Sam and Beyond BookSmart for quickly responding with just the assistance our son needed. We are very grateful!"
Ten years after we began our in-person Executive Function coaching services, it's exciting to see how our practice has evolved to include online academic coaching. What technological leaps will we incorporate into our work as we head into our second decade? One thing's for certain - kids will learn how to use it before most adults know it exists.
Do you think coaching may be in your child's future? Click below to contact us to arrange for a free consultation to see if coaching is a good fit for your student.
photo credit: University Life 143 via photopin (license)